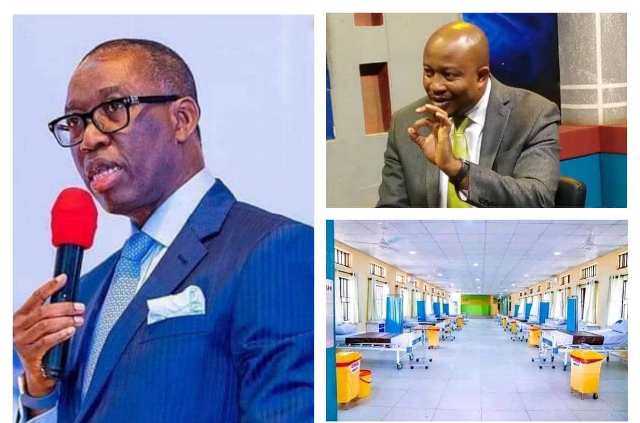 The Senior Special Assistant to the Governor of Delta State on Health Monitoring, Dr. Michael Nwoko has said that the State Governor, Sen. Dr. Ifeanyi  Okowa, has continued to contribute in no small measure in changing the dynamics of health care in Delta State and Nigeria as a whole.
Dr. Nwoko spoke recently when he featured on Bridge FM Radio Asaba, live program, "Community matters with Beluchi"
He said that, as a member of the Senate from 2011 to 2015, Sen. Dr. Okowa sponsored bills that changed the dynamics of health care in the Country, noting the National Heath Bill of 2014 as one of the bills.
"National Health Bill 2014, which is for an act to provide a framework for the regulation, development and management of a National Health System and set standards for rendering Health services in the Federation and provide basic health funds needed to effectively finance the Health sector in order to achieve Universal Health Coverage.
"Suffice to state that the basic health care funds are currently being accessed by States through their Health Insurance Scheme", Nwoko stated and further revealed that the Governor made it possible for Delta to become the first State in the Country to establish its own Health Insurance, a scheme he adjudged to be a huge success with nearly 1Million enrollees already captured.
Dr. Nwoko who is also the Coordinator of Delta State Health Monitoring Team, adding that frantic efforts have been made to bring the Health Insurance, Primary health care and the local government authorities under one roof to effectively drive the health insurance scheme in the State.
"Gov. Ifeanyi Arthur Okowa, the Governor of Delta State has demonstrated his passion for the Health and Well-being of all residents of Delta State by establishing the Delta State Contributory Health Commission to drive the State Health Insurance Scheme which has captured nearly 1 Million enrollees and has effectively strengthened all levels of care such as Primary, Secondary and Tertiary health care in order to enable the State guarantee Accessible, Affordable and Quality health required for the State to achieve enviable health indices and attain Universal health coverage".
"All components of the Health Insurance Scheme are running efficiently and effectively. They include the Equity plan which captures free health care for pregnant women, children under the age of 5 and widows, the formal sector plan which captures the State Government work force and the informal sector plan which captures private business owners, market women, farmers, mechanics, Okada riders, Keke riders etc. it is imperative for all residents of the State to enroll into the State Health Insurance Scheme and enjoy the benefit package". Dr. Nwoko concluded.