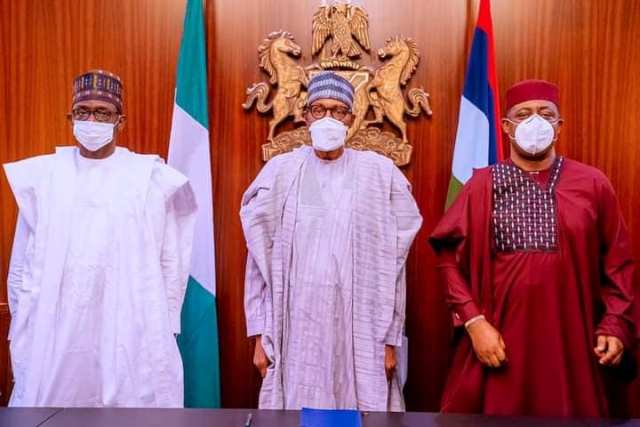 Former Aviation Minister, Chief Femi Fani-Kayode, has been presented to President Muhammadu Buhari as the latest member of the All Progressive Congrees(APC).
The former spokesman of the PDP Presidential Campaign Council,  was introduced to the President at the Presidential villa by the Governor of Yobe State and Chairman of the APC national caretaker committee, Mai Mala Buni, who was accompanied by his Zamfara State counterpart, Bello Matawalle.
Speaking with State House correspondents, Buni said: "We are here to present our newest member of the party, Chief Femi Fani-Kayode, to the President and leader of the party.
"President Buhari received him very well and, you know, Mr. President is a magnanimous leader, who shares his vision with anybody who is looking towards a greater Nigeria. So, he's happy and he received him very well, he commended his courage."
In his comment, Chief Fani-Kayode gave reasons for his action and explained that he had been a founding member of the APC, saying that he returned to the party for the unity and togetherness of the country.
He further said he was also working behind the scene to woo the governors of Oyo, Bauchi and Enugu states, Seyi Makinde, Bala Mohammed and Ifeanyi Ugwuanyi respectively to also dump the Peoples Democratic Party (PDP) and join the ruling APC.
He said it was entirely the business of those people who hold a not-too-pleasant opinion about his credibility, because of his constant change of political affiliation.
Fani-Kayode said his decision to join the APC was hinged on the need to join other stakeholders in the country to build bridges in the midst of the prevailing palpable disharmony among citizens.
On what he thinks will be the impression of his former party, PDP, following his decision, FFK said: "Well, that's left to them. I have many friends in the PDP. If you remember, in 2013, I was actually one of those that formed the APC, there were a few issues and I went back to PDP, but I think it's an individual thing. As a party, of course, they may not be too happy, but I have no enemies there and I have nothing negative to say about anybody there.
"I believe in moving the country forward together with everybody that believes in Nigeria and wants Nigeria to progress. We must come together to make sure Nigeria is a better place, regardless of party affiliation, but whatever they say, is entirely up to them."
Chief Fani-Kayode further gave reasons while appearing on Channels Television last night and said the APC has changed from what it used to be, stressing that the perception he had in the past was clearly wrong, and urged Nigerians to build bridges instead of throwing stones.
He added that there are lots of issues to be resolved in the PDP and he is waiting for the party to criticise his decision to move and give them an appropriate answer.
Fani-Kayode added that the APC of the time he was criticising President Buhari is different from what it is today, noting that the kind of leadership the party has today, led by the national caretaker committee, Buni, is doing exceptionally well in national issues.
"I wouldn't have joined them if the leadership hadn't changed. We can work together, we can build bridges. I have criticised the President in the past when I felt it was the appropriate thing to do, however, having moved closer to him over the last few months, I discovered a lot of things that I didn't know before. There is a lot going on behind the scene.
"The most important thing is that if I believe in a certain philosophy and I am getting positive responses when I act from within the family and ensure that change is being affected in terms of policies and the way in which the country is run, then I begin to think that is it not better for me and my country to ensure that we operate from within and effect the changes we want to put in place, rather than from outside?
"There is no point having any principles without power. You must have power in order to ensure that whatever principles you have you can affect them. Without that, you will simply be talking and nothing will change. I have discovered in the last few months that I can work with people within the APC and elements within the government to effect a change.
"This country, in my view, is on the brink of war and disintegration and so we have to join forces together, set our differences aside and ensure that we build bridges of unity and peace. In a couple of weeks, I will be joining the party in FCT and not in the Southwest."
When asked to comment on the statement he made in 2015 against President Buhari, the outspoken FFK said: "There is a time to condemn and criticise people. There is also a time to come together, work together to achieve unity."
In 2015, FFK had condemned politicians that joined the ruling party, saying that he would rather die than join APC. Holding on the above statement, the Channels presenter asked Femi to give explicit reasons he defected, Femi answered: "Joining APC now is the way forward, despite what people may think about it. APC is a liberal party. A lot has happened in APC over the years. The party has changed and the President has accommodated the change. Had the APC leadership not changed I wouldn't have joined them.
Guardian